After a minor scratches or major accident, you need a partner who understands how to make your vehicle look its best. At TS Motor Collision Repair garage, we invest in up-to-date tools and technologies that enable us to fix everything from minor cosmetic to major structural repairs with ease.
Our experienced staff, knowledgeable estimators and certified technicians are all part of a professional team, and we're committed to making the repair process simple and convenient. That means you get back on the road as quickly as possible with minimal wait time.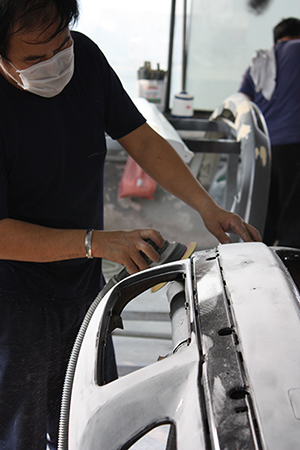 Here at TS Motor Collision Repair garage out motto is "Quality over Quantity". We can repair your car faster than any average body shop, on the other hand, we limit the number of vehicle in our shop in order to allow our mechanics and technicians focus on every detail of our customer cars. We stand behind the quality of our work at TS Motor's. We're not fully satisfied with the repair unless you are, and we gaurantee our work longer than any other garages in Bangkok area.
We take care for your vehicle
TS Motor 
detailing services feature top quality detailing products to restore the shine to your vehicle's exterior. Most auto detailing services can be completed in less than two hours. Everyone loves a clean car, and a clean car runs better. TS Motor detailing technicians are trained and equipped with the most advanced, tools, equipment, chemicals and supplies to provide the best auto detailing services for your vehicle.
TS Motor car detailing services utilize 3M technology of specially formulated protection products that protect auto body exterior of today's automotive finishes.We go beyond standard auto detailing services and also provide specialty restoration services to improve the appearance of your vehicle taking your detailing service to the next level. Click here to see our detailing program
Leather restoration and replacement services...
Whether you are restoring your custom classic, replacing the interior of your everyday automobile or designing a custom interior for your special project, TS Motor Interior service will treat your project like it's our own. We also restore leather steering wheels and offer a cra trimming service, or we can even replace a damaged panel to match your existing leather interior.
The look, the feel, the smell of a premium, factory-quality, leather trimmed interior is now an affordable luxury at TS Collision Garage. You don't have to pay much money for the entire factory upgrade, package, when all you really want is the leather. Our interiors are designed to match the exact factory specifications for fit and color. All our interiors leather imported from overseas, we can guarantee that our quality will satisfy your needs. 
Here you can see what we have to offer and what you'll pay for that
Here you can see the pricing table which comes with the theme. It needs to be insterted to the post/page/service in the Text editing mode (not visual).
| Service | European Models (S/M/L/VAN) | Japanese Models (S/M/L/VAN) |
| --- | --- | --- |
| Collision Repair* | 35€ | 55€ |
| Car Detailing & Polishing | 32€ | 42€ |
| Exterior Glass Coating | 44€ | 31€ |
| Interior Leather** | 48€ | 34€ |
| Body Exterior Styling | 22€ | 33€ |
| Interior Button Carpet*** | 16€ | 7€ |